Post by rebeccad on Aug 28, 2015 21:09:09 GMT -8
This is a version of the photo post I put on my blog today, at
www.ninjalibrarian.com/2015/08/photo-friday-backpacking-sierra-nevada.html
We had a somewhat different sort of summer, as one of our sons was away for the whole month of July, leaving us to backpack as a family of three (weird) (but as the eldest is now at college, something to get used to). Looking for someplace to go after dropping Second Son off at LAX for his trip to Mongolia, we settled on Sequoia National Park, in particular the Mineral King area.
The road in to Mineral King is not for the faint of heart. It takes over an hour to drive the 26 miles, and is steep, windy, and only one lane wide. We had spent the night at Kaweah Reservoir (note: we carefully made a reservation for the campsite, only to find ourselves one of 4 parties in the whole place. It was a different story when we drove by on our way home July 4!). When we went to pick up our permit for our trip, the ranger suggested that we either marmot-proof our car or park by the ranger station, a half mile from the trailhead, as the little demons have a habit of crawling underneath, then nibbling anything rubber. Like brake lines, something you will really want for the trip back out. We borrowed chicken wire, scrounged our ground clothes, and secured the car before departing.
(Spouse's photo)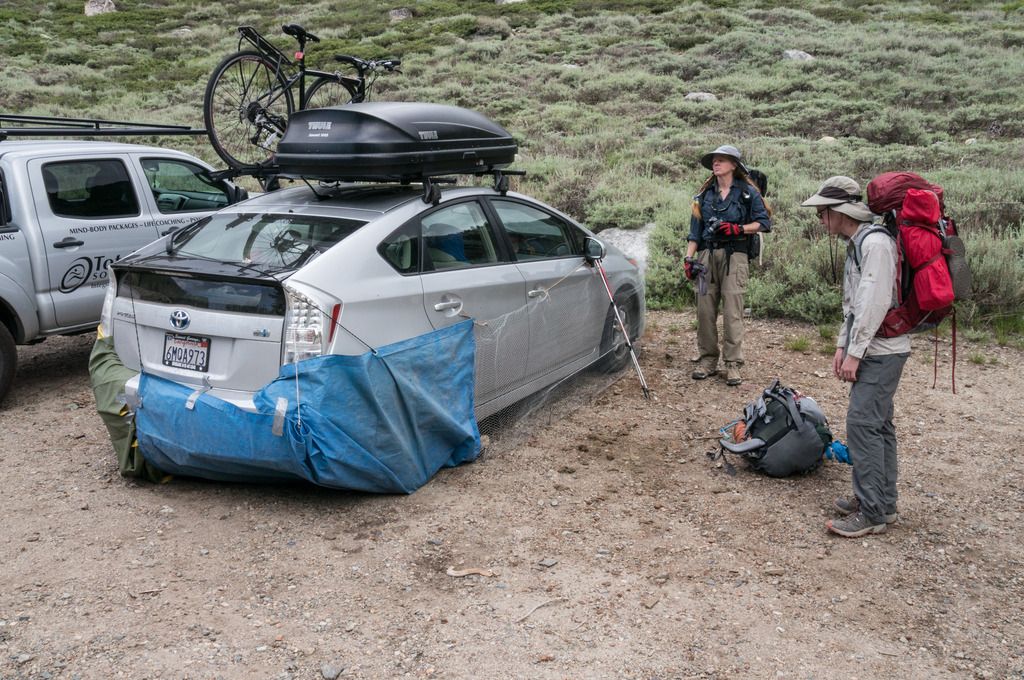 Here, of course, we have one of the evil marmot-creatures, lurking about and waiting for the opportunity to steal a car:
We were all packed up and hit the trail about 11 a.m. (took about 2 hours from arrival at the ranger station to departure; we had a nice chat with the ranger, who talked us into renting a bear can, finished our food packing which was disorganized due to having been on the road for a week, and wrapped up the car). We knocked off the climb to Timber Gap in short order, stopping only to put on rain gear as the afternoon thunderstorms came early. They passed so that we could eat lunch at the gap (in the trees, so we were sheltered anyway), and we headed on down toward Cliff Creek and the Blackrock pass trail.
Descending the wet trail with care.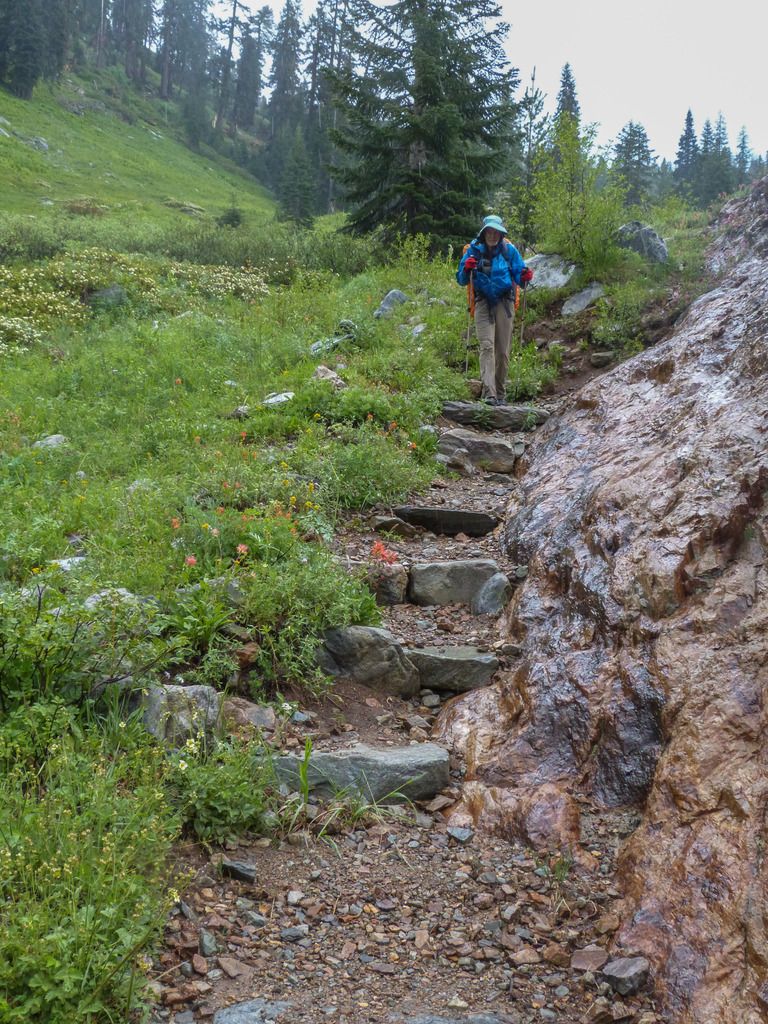 After a bit over 5 miles, and having dropped about 2500' from our high point so far, we crossed the creek and began the final climb toward our chosen camp.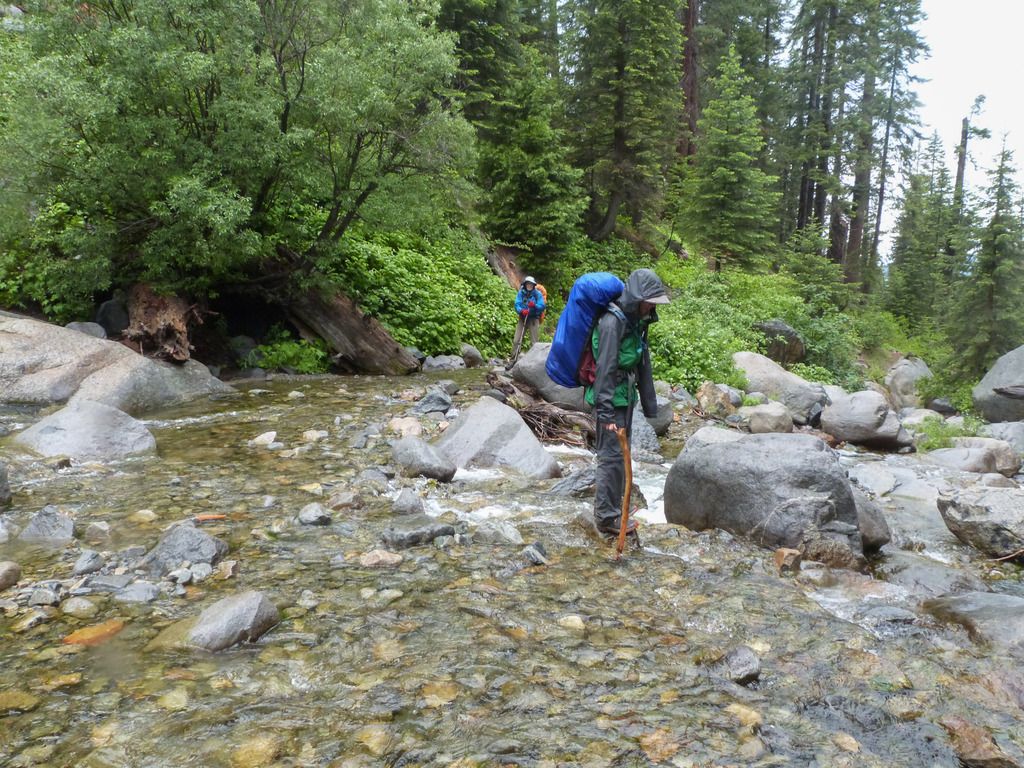 We knocked off the remaining 3 miles (and 1300') reasonably briskly, and while we made camp at Pinto Lake (a body of water we couldn't locate until we climbed above it the next day) congratulated ourselves on being able to do more mileage and more elevation that we've done in quite a while. Ma Nature rewarded our efforts with a glorious sunset: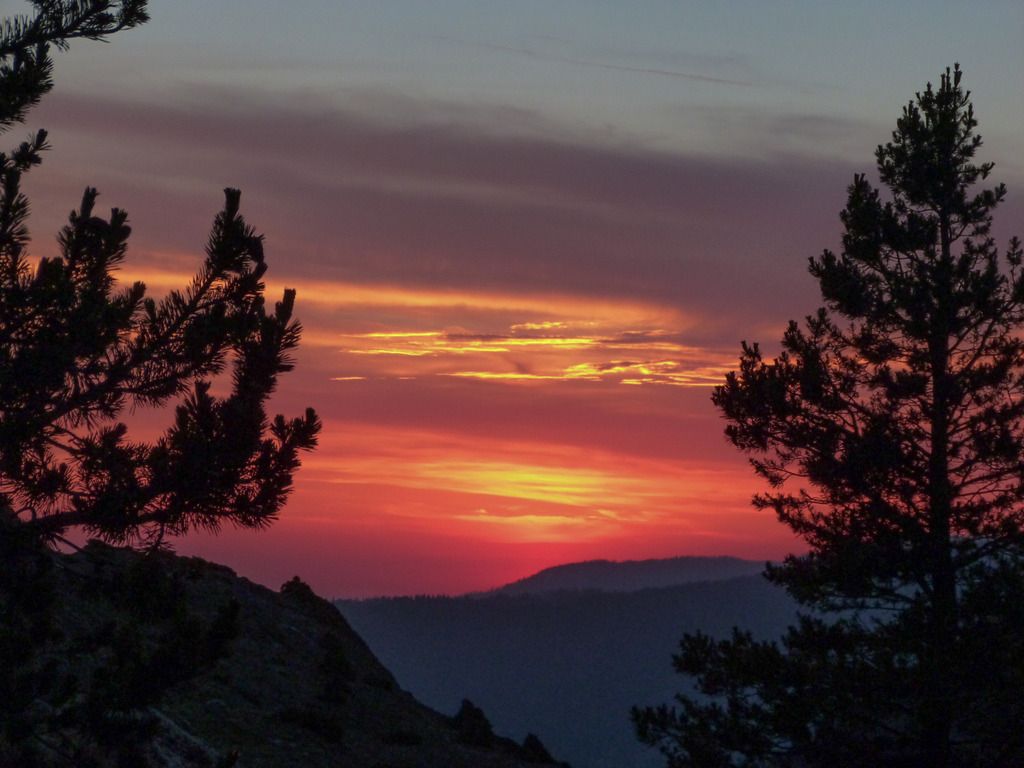 With a glorious moonrise in the other direction:
Day Two:
The weather closed in again overnight, and we had a few drops of rain as we broke camp the next morning. The rain started in earnest long before we reached the summit. Shortly after taking this photo, my camera apparently got some water in the works, and stopped working for a number of hours. The slope got a great deal steeper after this.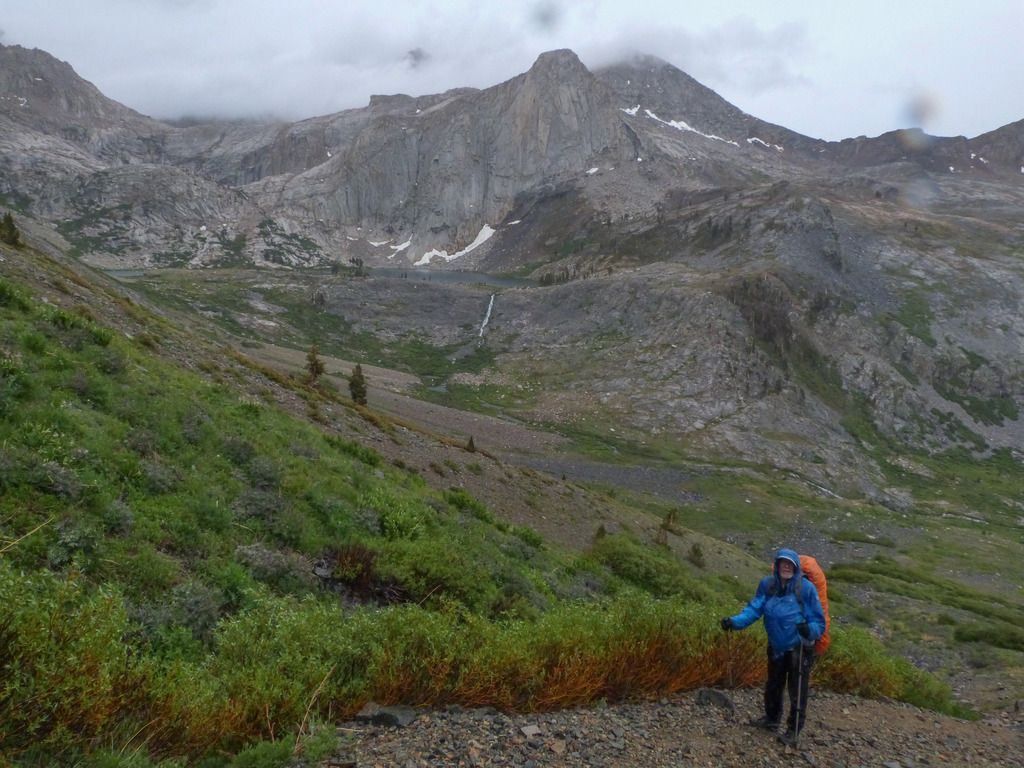 By the summit of Blackrock Pass (11,600'), the wind and rain were both fierce enough that there was really only one thing to do: get down as fast as possible. Eldest Son charged ahead, hoping to find shelter somewhere to wait for us. With zero bodyfat (I'm only exaggerating a very little) he got cold fast, reminding us that he and I (at least) should always have food we can reach without getting into our packs. Down near the middle Little Five lake, he found a dry place for us to eat--under a half-hollow fallen log (alas, no photos of that came out). The food thing taken care of, we looked around and found a campsite. By the time we were set up, the rain had stopped and the sun came out, drying all our gear, shoes, etc.--even my camera. Partway through the afternoon it began to turn itself on, take a photo, and go back to sleep, only to repeat the process. Here's one of its shots of camp with me, the Spouse, and our nearly-dry gear.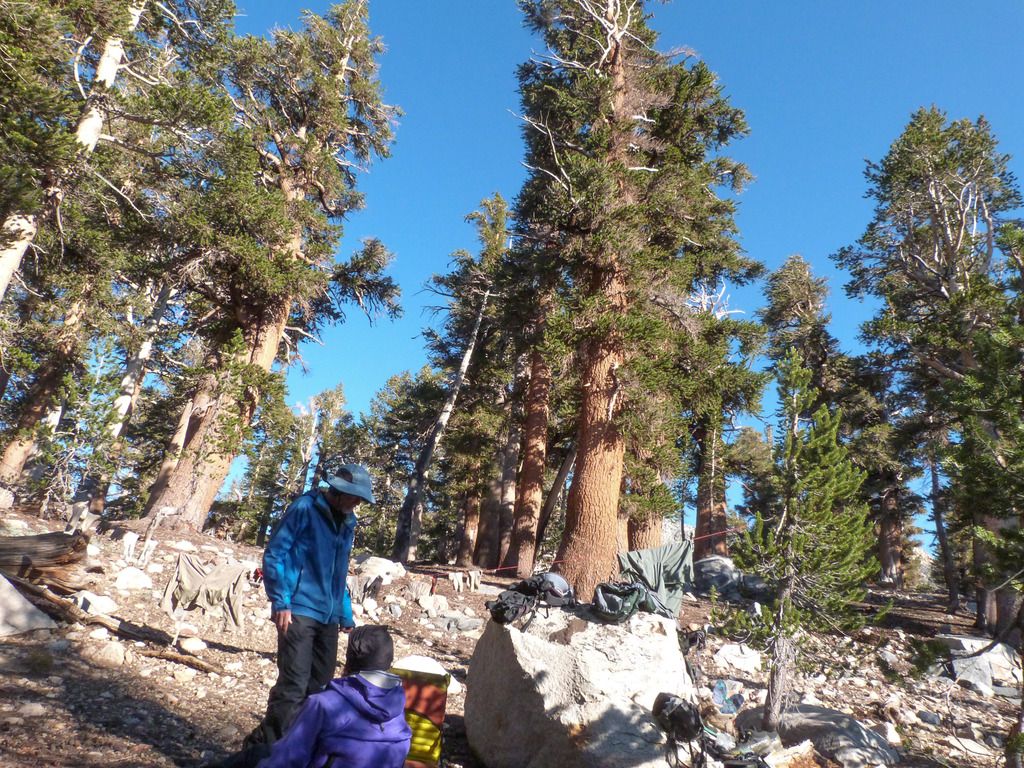 In the evening, we strolled out for a look at the mountains, being particularly interested in the Kaweah Peaks Ridge.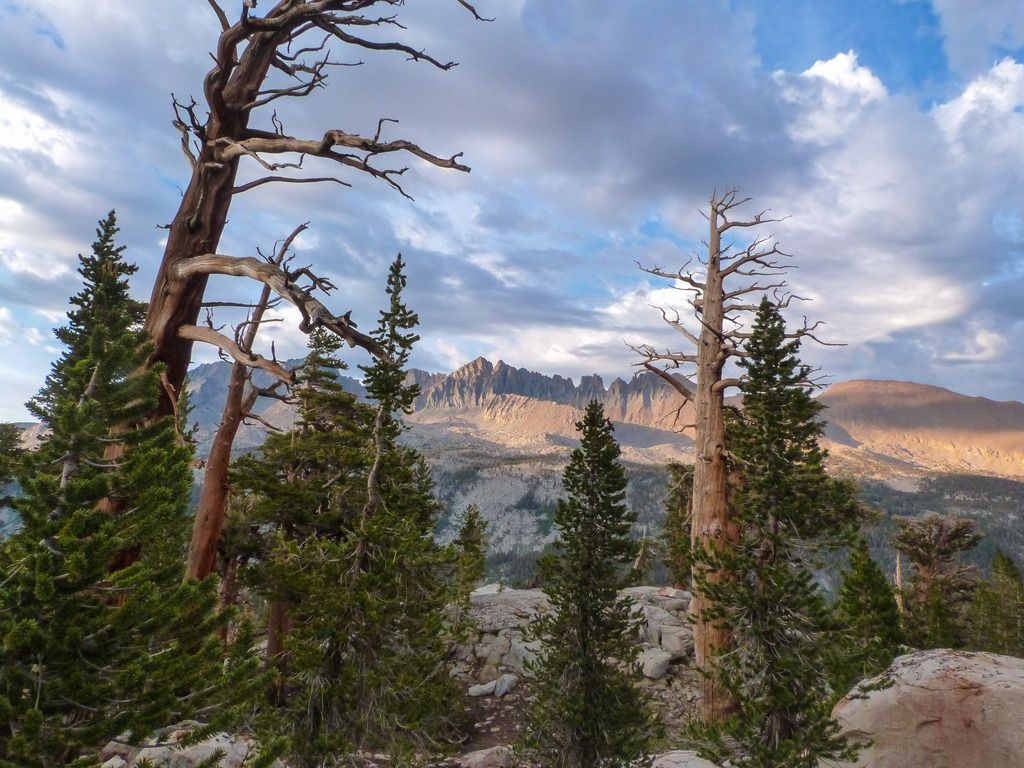 Somewhere around midnight we were woken out of a sound sleep by thunder and lightning. This time the storm wasn't messing around--it was right on top of us. The gap between lightning and thunder was less than a second, and the ground shook when the thunder rolled. That was more exciting than I might have wanted, though we were in a pretty safe spot. Eventually it passed, but every time I woke through the night I could hear distant thunder.
Day Three
We broke camp under a threatening sky, and we got hit with a few drops of rain on our way to our next camp--a short (3 miles or so) way along at Big Five Lakes. A couple of features of this trip I haven't mentioned are the mosquitoes, which were annoying but not intolerable (mostly), and the pine pollen, which was an issue for my son. Clearly it's one of his allergens, and it was dismaying to see clouds of it break from the trees in a breeze and float off like smoke. It coated the lakes and ponds, too.
We found a nice campsite on a rock bluff well above the water between the 2nd and 3rd Big Five lakes, and (after lunch), settled in to enjoy the afternoon. We had to get out of the tent repeatedly to bring in our laundry as thunder showers passed through, then hang it back up again when the sun came out. Eventually the stuff dried, though! We also enjoyed some photography during breaks in the storms.
I love this shot of Eldest Son having dinner--he was unable to stop reading his required summer reading for his college freshman orientation!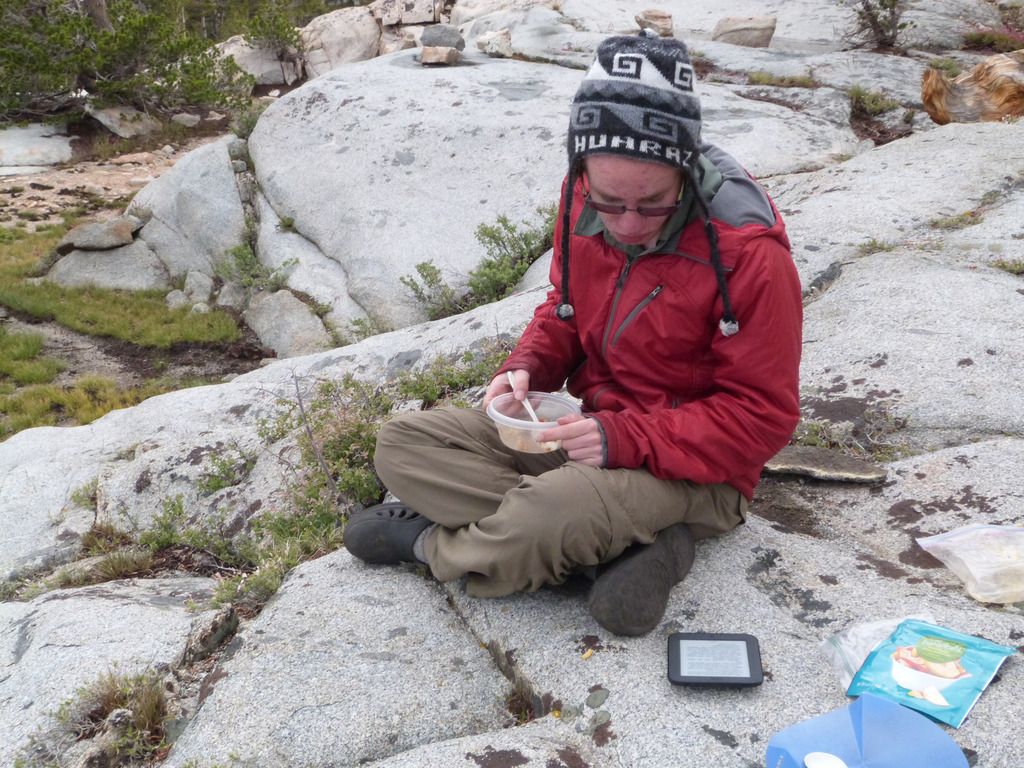 Finally, after dinner the spouse and I wandered off to see what we could photograph at the next lake up the canyon. We'd meant to do more exploring, but fatigue, storms, and mosquitoes kept our ambitions in check. Got a few decent shots, though.