Post by JRinGeorgia on Apr 14, 2021 20:15:51 GMT -8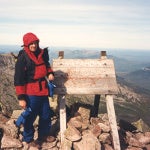 JRinGeorgia
out of your regular equipment is there one "minor" piece that might pop out as a standout? I know your equipment reflects a lot of work to make sure it all has value but is there one little thing that maybe shines brighter than some of the others?
Not offended, and your point is well taken. OK, here goes, in no particular order...
In most cases, what makes a piece of gear work well for me is that it performs the needed functionality at a lower weight than alternatives. The result: my kit is a combination of high-end, specialized, purpose-built gear and repurposed garbage.



My pillow system is divine. I have a 19x13" Monkey Pillow pillowcase and a large FlexAir inflatable pillow, total weight just under 3 oz. The pillowcase has low-pile fleece on the top for your face and UL silnylon on the bottom. The FlexAir half-inflated is pretty flat and fills in the bottom of the pillowcase. Then I stuff in my down puffy on top of the FlexAir, and elastic straps hold the whole thing to my sleeping pad. It's huge and the closest thing to a real home pillow I've ever found in the backcountry. Note that I am a side sleeper and need a higher pillow to keep my spine and head aligned.






Olight i3S flashlight. Instead of a headlamp I use this mini flashlight that clips onto the bill of the hat I'm already carrying. Weighs 18g including the clip and 1x lithium AAA battery.






Westcott titanium-bonded mini scissors can handle most actual cutting tasks I have when backpacking (cordage, plastic food bags, bandages, moleskin, etc). They stay very sharp and weigh 7g.






For water bottles I have a repurposed disposable 0.7L bottle with a squirt top for clean water to drink straight from and a repurposed 0.7L SmartWater bottle that has threads that fit a Squeeze filter perfectly, for dirty water. Together the two bottles weigh a combined 1.5 oz.






I cut off the top of a small (16oz) Sawyer bag and use that as a water scoop at 9g.






Trail Designs Caldera Cone Keg-F cook kit (water boil only). It's a very fuel-efficient alky system for boiling water – I can get 2 cups to a boil in about 7 minutes on a half-ounce of fuel. The cozy becomes two eating/drinking vessels (two bowls, bowl and cup, etc). With two DIY Reflectix cozies and LightLoad towel the kit weights 8 oz, not counting fuel, lighter or spoon.






Outdoor Research Echo Duo long sleeve shirt. Incredibly light (3.6 oz), super-soft drape, moisture-wicking, SPF 15, just love this shirt.






Goosefeet Gear down jacket. 950fp, 3oz fill weight and 5.96 oz total weight. Custom made to fit me perfectly.






Simblissity head net is much better than the one from Sea2Summit because the mesh is finer, resulting in half the weight (12g), easier to see through, and lets air flow through easier – and it's larger to fit over a hat better..






I haven't found them lately, but I used to find eye drops in 1/4 oz mini squeeze bottles at the Dollar Store. These are half the size of your typical small-size Visine bottle and are perfect to repurpose for hand sanitizer, insect repellent, and pretty much anything else you want.






Deuce of Spades aluminum cathole trowel, an early version that weights 17g and cost about one-third of what a titanium trowel would.






Zen Gear UL wallet, cuben fiber weighs 6g. I used to just use a snack-sized Ziploc to carry my DL, cash credit card, insurance card, etc on the trail. This wallet actually is heavier, but it's worth the extra couple of grams. On the trail it doesn't really matter, but it's nice to have a real but still featherlight wallet when back to civilization.






DIY Reflectix pouch to protect my cell phone at 7g.






StickPic turns my trekking pole into a selfie stick for much better photos on the trail that include me in the frame. Weighs 13g and attaches to any camera or phone that has a tripod mounting screwhole.





A thin, closed-cell foam full-sized sit pad, egg-crate design, only 19g.




Uncle Bill's tweezers. The tweezers in your typical SAK suck. These Uncle Bill's have precision tips that grip.






Liteflex trekking umbrella, which I wrote about in a recent thread in this Gear forum.



I like all of these and more in my kit because I considered each one very carefully, looked at the alternatives to achieving the same functionality (including not having it at all), and felt most comfortable having this in my kit ready to do what I need it to do.