Post by gabby on May 14, 2021 14:26:56 GMT -8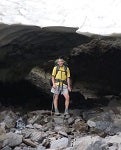 I'm not so sure - I feel that the Coffey was a good start, but could do with some refinements that would make it a really great, and light, chair
In pursuit of my previous comment about the fabric used on the Coffey chair, and because I do own a couple of Helinox Sunset chairs, I tried the fabric designed for the Helinox Sunset on the Coffey chair using the Helinox seat poles between the attachment straps of the existing chair fabric to accomodate the small reinforced seat holes on the Helinox fabric.
To (probably) no one's surprise, the Coffey chair became, with the addition of the shaped fabric seat, a very comfortable and supportive chair, with enough room at the head end for a person (I'm 5'11") to relax with great shoulder and head support. Of course, the Helinox Sunset fabric alone is about .9 lb., meaning the Coffey chair would weigh nearly 2 lbs (though this is vs the Helinox Sunset's 3 lbs.) - there's 2 lbs of weight in the poles of the Helinox Sunset alone.
Anywho, just another fruitless experiment on my part: the manufacturer-distributor of the Coffey chair has still not responded to my email. If the guy who designed the original Coffey chair had the means to get a lightweight nylon/polyester shaped seat fabric sewn, I think this chair would be very good. However, it probably
is
a dead deal. It takes a hell of a lot of time and good smart engineering to produce this stuff, meaning higher prices or designs created by large manufacturers who cater to people who want products that can take a lot of abuse for a lot less than the stuff you and I regularly want and use - at much lower production volumes and sales numbers.